Garmin GPSMAP60Cx/60CSx/76Cx/76CSx info & discussion
Post updated: 08/04/10
(Post Subject fka "Garmin GPSMAP 60CSx Roll call")
The information in this post is updated periodically. Since not all date sensitive information in this post is updated with each edit, check the dates on the individual items below to see when they were last checked. Please note that the term "Personal Navigation Device" or PND, is used here in favor of "GPS unit" or"GPS radio or receiver".
While parts of this post may apply to other PNDs, it applies primarily to the Garmin handheld "GPSMAP" family of 60CSx, 60Cx, 76CSx, and 76Cx models that use the SiRFstarIII GPS navigation chipset. Garmin also employs several other "High Sensitivity" GPS chipsets from other manufactures such as the and the . As of the last update to this post, these GPSMAP series PNDs all still used the superior SiRFstarIII chipset.
- Read why SiRFstarIII is so superior.
- Read about the other "High Sensitivity" chipsets that Garmin is using.
CONTENTS:
1) FIRMWARE
2) HIDDEN PND FUNCTIONS
3) PC & MAC BASED SOFTWARE
4) MAPPING SOFTWARE
5) MEMORY CARDS
6) POWERING YOUR PND
7) PRECAUTIONS
8) SAMPLE PRICE COMPARISON SITES FOR PND SHOPPING
9) NWOGEO ROLL CALL OF Garmin GPSMAP 60/76 SERIES OWNERS
1) FIRMWARE
a) Firmware Components:
- These PND (Personal Navigation Device) models have two internal updateable firmware components. Unfortunately, each firmware component is identified differently by Garmin between their website and within the actual PNDs.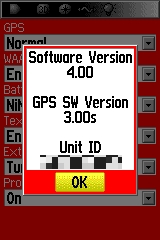 Navigate to this screen on your PND via
Main Menu
>
Setup
>
System
> press
Menu
,then
Software Version
To create screenshots from your PND, use Garmin's free program.
Note that this sample screen shot may not reflect the latest versions available!
FIRMWARE APPLICATION
FIRMWARE NAME
VERSION
VERSION
DATE LAST
CHECKED
ON WEBSITE
IN PND
PND Operating System Unit Software Software Version 4.00 04/26/09 08/04/10
GPS Navigation Chipset GPS Chipset Type G GPS SWVersion 3.00s * 11/12/07 04/27/09
* The "s" was added to the version number after 11/12/07, however the software does not appear to be changed.
The "s" may be a chipset identifier, indicating that the software is for the SiRFstarIII chipset. .
Both firmwares may be updated via Garmin'sprogram.
The Unit Software may also be downloaded via the links below. On occasion, the firmware versions available through the links below have not match the versions available through the Web Updater program. Check via both methods if you want the latest.
"UNIT SPECIFIC" and "ADDITIONAL SOFTWARE" LINKS
MODEL
PRODUCT ID/LINK
60CSx
60Cx
76CSx
76Cx
other models
As Garmin's website has evolved, the GPS Nav Chipset firmware was removed from the above "Unit Specific" pages in favor of it being available only via the Web Updater. The exception is the which as of 08/04/09, still showed it available for download. Also as of the last update of this post, the firmware was the same as used by the above PND models..
b) Firmware Issues:
With Version 2.60, several people had experiencing bugs. I have witnessed the following:
- Zoom function freezes. Changing screens away from, then back to Maps, allows zooming to work again.
- Current position stops updating on map. Other data continues to update properly. Unit must be powered down and back up to clear the issue. Other forums mention that this may be related to changing screens when navigating with the compass on. (As of version 3.30, this issue still occurred. "jslagle" suggests that it may due to the unit attempting to recalculate a route.)
•
Firmware 2.60 corrected an undocumented problem that prevented data from being streamed via USB. It affected any program that required real time data,including Garmin's own "."
2) HIDDEN PND FUNCTIONS
•
While at the Trip Computer screen, press the rocker Up, Right, Down, and Left in that sequence to enter the Diagnostics page with Shutdown and Stack logs.Press MENU while in Shutdown to delete logs or to Reset Stack Stats while in Stack logs. Each press of FIND, displays all possible graphics. Each press of IN displays all possible error messages. Pressing MARK displays the "Poor Satellite Reception" pop-up.
•
With unit off, press and hold the ENTER button while powering on to see a test screen. Among other details, there is a temperature reading available. Each press of PAGE cycles through several display tests.
•
With unit off, press and hold ENTER and PAGE while powering on to perform a master reset. (Function confirmed by Cheech Gang.)
3) PC & MAC BASED SOFTWARE
a) Garmin Software Applications:
Garmin SOFTWARE APPLICATIONS
VERSION
DATE
LAST CHECKED
FOR UPDATES
n/a n/a n/a
This is a link to a page at Garmin that includes "Unit Specific" software and "Additional Software". This page also includes links to some of the programs listed below. When checking software via that page, be sure to click on the actual software links to see their actual version dates, as those listed there may not be correct.
3.0.1 03/31/10 04/03/10
This app works with Map Source products (Topo mapping software) that contain digital elevation model (DEM) data.
2.9.1 11/09/09 04/03/10
Allows websites such as , , and , and to communicate via USB directly to your PND with Explorer 6+ or Firefox 1.5+.
Here are some other sites that use this plug-in:
1.7 08/12/09 04/03/10
If you would like to write your own application to use this plug-in, this is the info you need.
3.13.5 02/10/10 04/03/10
(description to be added later)
6.15.11 02/01/10 04/03/10
This is the update link for the Map Source software that comes packaged on disc with Garmin products. The Map Source Updater will only work if you have a previous version of Map Source installed. If your install disc is not available, then read the "How to Get Map Source legally for free" information, below this chart.
(nRoute is considered a discontinued product and as of 04/03/10 a Garminlink to this software could no longer be found. Look for an alternate download source.) A Garmin's alternative to nRoute is their product. 2.7.6 04/24/07 05/06/10
Allows for auto-routing on a PC when tethered with a PND.
(While this file is available from Garmin, no links to it could be found on the Garmin site.)
2.5.4 10/08/09 04/03/10
This app loads custom Points Of Interest into your PND.(2trux suggests using it to get around the 1000 way point limit.)
2.07 02/28/07 04/03/10
This is NOT used for the "x" models. It is presented here for completeness, as it is shown on Garmin's site.
2.3 12/01/09 04/03/10
This app will install / pre-load all Garmin USB Drivers on your system and upgrade older versions if found.
for Windows. (See link for other versions) 2.4.2 04/22/209 04/03/10
This app automatically detects and installs the most recent firmwares (Operating System & GPS Navigation chipsetfirmware) to your PND.
2.3 03/23/05 04/03/10
Captures screenshots from most PND models, and with certain newer models, some images such as the splash screen, and waypoint symbols to be changed on the PND itself.
See website See website See website
Visit this page at Garmin's website to see the latest Mac offerings which include many of the above programs along with other Mac specific programs.
•
How to Get Map Source legally for free. Map Source comes packaged on disc with Garmin products. Online, only the MapSource Updater for it is available, and requires MapSource to be previous installed to work. If your install disc for MapSource is not available, then visit the Garmin site and install . Next download the and it should install with base maps only. Other methods exist, including the creation of a dummy mapsource.exe file in the c:/Garmin directory, before downloading and installing the MapSource Updater.
b) Other Third Party Software Applications:
•
GPS based PC software that require a Serial interface to your PND can be tricked to use the USB interface with a program called GPS Gate from .It can also be used to run multiple GPS based programs simultaneously, or it can simulate a GPS for testing purposes.
•
This is by far the most popular 3rd party program used for Geocaching! With the built in capability, many user created features have been created for it. On epopular macro called, ""by , that helps you create a very detailed statistics report in HTML format for use in your Geocaching.com Profile.
•
There are plenty more programs available, however for now here is a link to our area for other Geocaching Utilities.
4) MAPPING SOFTWARE
a) Garmin Mapping Software:
Garmin's City Navigator mapping software is needed to use the routing functions on these PND models. It is available for various regions, including North America which is often referred to as "CN NA".
An new data compression format was introduced for City Navigator North America Version 8 called "NT" (New Technology).While either the traditional or NT formats may be used in these PND models, the NT format takes less memory and it the best choice for future support.
After Version 8 of "CN NA" and "CN NA NT",Garmin changed their version naming convention. Therefore the next version was called, "City Navigator NA 2008"and "City Navigator NA NT 2008". Also starting with the 2008 version, it could only be loaded into ONEPND unit, whereas the previous maps could be loaded into two different units under the same license.
Garmin's "" is a lifetime map software update subscription program, providing new may data as often as every 3 months for the lifetime of the one PND unit by one owner. It is available only for those with NT mapping software such as CN NA NT. Owners of non NT software, must purchase the full NT version before they can subscribe to this service. As of this post, similar programs also exist for Europe and for a combined NA/EU program. Check out .
A 2 gig MicroSD card will hold all the data from the CN NA NT software.
To load the data faster than with the USB cable, use an MicroSD to SD adaptor to load the card directly from the SD card slot of your PC using MapSource.(Note however that some computers can only READ from their card slots and cannot WRITE to them. Read more about Memory Cards below!)
b) Other Third Party Mapping Software:
•
Mountain Dynamics produces various map sets with POI information called Snowranger for many North American ski resorts. (added 12/04/07)
http://www.mountaindynamics.com/en/snowranger.php
http://www.mountaindynamics.com/en/snowranger.php
•
Software exists to make your own maps. More info and links are available via this link:
5) MEMORY CARDS
•
1gb and 2gb MicroSD (aka Transflash) cards are available at very low cost.Search andfor "MicroSD" for some great buys. Do
NOT
buy MicroSDHC cards! SD means"Secure Digital" and SDHC means "Secure Digital High Capacity". Cards that are 4gb or higher use the HC format and are
NOT
compatible withGarmin "x"models!
•
MicroSD cards often come packaged with an adapter that can be used in a SDcard slot in your PC. Using MapSource, data can be loaded much faster by using the card in your PC, rather than loading via the USB cable. (Note however that some computers can only READ from their card slots and can not WRITE to them.)
•
A problem with "x" models reading MicroSD
version 2
cards was corrected with "Unit Software" version 3.20.
•
You may navigate via two methods to view your current memory usage.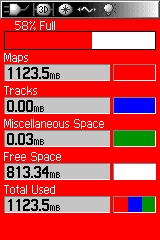 From the Main Menu navigate to
Setup >
System
> Press MENU > then
Card Info
OR
From the Main Menu navigate to
Setup
>
Interface
> Press MENU > then
Card Info
This sample screen shot was taken from a GPSMAP 60CSx unit, with a 2gb memory card loaded with CN NA NT Version 2010.1 mapping software.
6) POWERING YOUR PND
12 Volt to USB Power Adaptors allow you to connect your USB cable to your car to power you PND.
SOURCE
AMPS
PRICE
DATE
CHECKED
n/a $4.99 04/03/10
USB Geek
1 A $7.00 04/03/10
USB Geek
2 A $9.00 04/03/10
7) PRECAUTIONS
:
a) Do NOT buy Garmin Mapping software from a eBay or similar auction if you want to be able to upgrade the software later! There may also be a similar problem with hardware purchased via auctions according to some forum posts.
b) Owners of PND models with USB jacks, caution that the jacks can become wore out. This could especially be an issue if the unit connected to a car cord and is frequently taken in and out of a vehicle.
c) Owners of "x" models should be very careful that their memory chips are properly aligned in their sockets, before powering up the unit. I've misaligned my chip in a 60CSx, and it caused the backlight to burn a spot in the coating on the back of the LCD panel. Others have reported that inserting the batteries backwards can also cause this problem!
8) SAMPLE PRICE COMPARISON SITES FOR PND SHOPPING
Site with list of price comparisons in the US:
9) NWOGEO ROLL CALL OF Garmin GPSMAP 60/76 SERIES OWNERS:
NWOGEO NAMES
Geocaching.com NAMES
GPSMAP MODEL
DATE ACQUIRED
60CSx
60Cx
76CSx
76Cx
2trux . ~05/06 . . .
BlackBrownDog
Mr, BlackBrown Dog . ??/?? . . .
bluevobler . . 10/08 . .
Bookisme . . 02/07 . 08/07
Cachemeister . 12/06 . . .
Cheech Gang . . 07/07 . .
Chipcarvey . 06/06 . . .
Coaster . 02/06 . . .
educey . 08/06 . . .
Flooder . 08/07 . . .
fostoriaohio . ??/?? . . .
GizmoGuy411 . 02/06 . . .
J-Kass . 01/08 . . .
jimbobwe . 04/07 . . .
Jimmy System
& Special K . . 10/08 . .
jslagle . 02/06 . . .
Magickal . . . ??/?? .
mel.ivey . 06/08 . . .
OnD'Hunt . 12/08 . . .
Orange Dawg . . 03/07 . .
rnw422 . 11/08 . . .
schwnman99 . 12/07 . . .
sm_geo . 12/08 . . .
TheBearclaws . 06/07 . . .
TheMoopAlong . . 06/06 . .
TheMoops . 06/06 . . .
WinChester2.0 . 05/07 . . .
COUNT: 28 Total
. 20 6 1 1